On August 31, 2021, Bitexco Group participated in the "Triệu túi an sinh" program launched by Ho Chi Minh Communist Youth Union and awarded 14,000 "Túi quà an sinh" (equivalent to 3,5 billion dollars) for people in difficult circumstances, affected by the Covid-19 epidemic.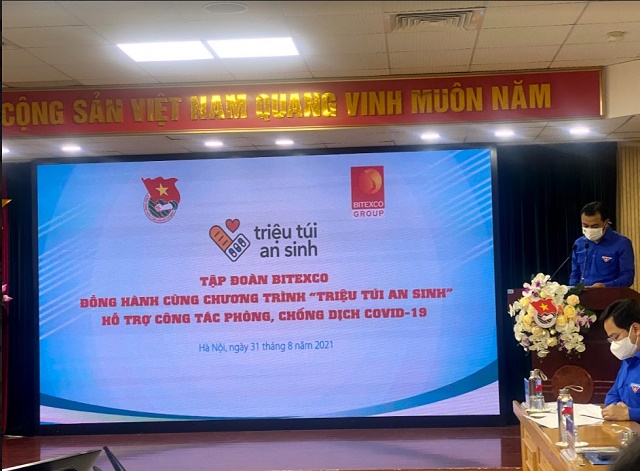 Responding to the call of action to join hands in the battle against the Covid-19 by the General Secretary of the Central Committee of the Communist Party of Vietnam, The president of the Socialist Republic of Vietnam and the Prime Minister on organizations/individuals to take care of and ensure social security for people. "Triệu túi an sinh" program aims at helping the poor, vulnerable workers and people living in localities implementing social distancing measures to overcome this extremely difficult period.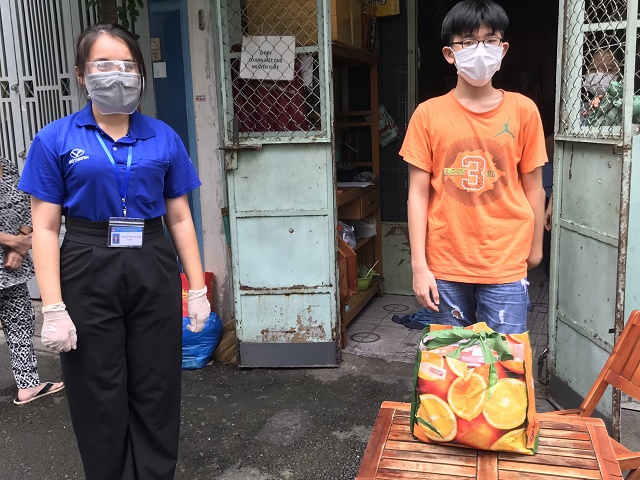 It is known that the program will be implemented from August 20 2021 until the end of the Covid-19 epidemic and be deployed in provinces and cities implementing social distancing, especially Ho Chi Minh City, Binh Duong, Long An, Dong Nai provinces which are severely affected by the Covid-19 epidemic according to Directive 16.
Joining the "Triệu túi an sinh" program is part of "Chia sẻ và lan tỏa yêu thương – Chung tay đẩy lùi Covid", a charity program implemented by Bitexco Group. This program has been successfully deployed since the outbreak (in 2020) until now. With the desire to contribute and join hands with the Ministry of Health, the frontline medical team and the community to fight the epidemic, in August 2021, Bitexco Group donated 400 oxygen cylinders and pressurization valves to install on specialized medical vehicles of the 115 Emergency Center, 05 6-parameter monitors for the University of Medicine and Pharmacy Hospital of Ho Chi Minh City, tens of thousands of gifts (necessities, equipment, and medical supplies) to the medical force in the hospitals of the Ministry of Health in HCMC. In addition, Bitexco Group also donated nearly 5000 (3M) medical masks, 1000 boxes of medical gloves, 3000 sets of medical protective equipment (level 3) to the Steering Committee for the Covid-19 epidemic prevention and control of Binh Thanh District.
In Hanoi, the 2021 "Chia sẻ và lan tỏa yêu thương – Chung tay đẩy lùi Covid" program has promptly implemented many activities such as coordinating with Ha Noi Communist Youth Union, the representatives of Vietnamese Fatherland Front of Me Tri, My Dinh 1 wards (Nam Tu Liem District), Dai Kim and Thanh Liet wards (Hoang Mai District) to present nearly 3,000 welfare bags; cooperating with Hoang Mai district's Communist Youth Union to support the kitchen with 100 meals for medical forces, doctors, freelance workers who have lost their jobs, people with difficult circumstances, and students who are stuck due to social distancing.
Ms. Nguyen Thi Thu Ha, Chairman of The Garden Co., Ltd. (a member of Bitexco Group), representative of the organizing committee of "Chia sẻ và lan tỏa yêu thương" program said that "Bitexco has been on a journey of 36 years, with the business philosophy of putting people at the center of development so in the context of the complicated Covid-19 pandemic, we are more than ever aware of the role and responsibility of our business to the community and we are willing to join hands in supporting the frontline and sharing difficulties with people. We believe that with Government's drastic and consistent directions, the cooperation and determination of the government, organizations and businesses, especially people's self-awareness and compliance with the prevention and control measures, we will firmly overcome the pandemic and soon restore socio-economic activities throughout the country."
** "Triệu túi an sinh" program aims at supporting people in difficult circumstances such as the poor, people who are self-employed or lost their jobs, sick patients, young workers who lost their jobs; students, pupils, teenagers and children with difficult circumstances; vulnerable workers; people and children or families who are F0, F1 and have difficult circumstances; children and families of soldiers, doctors and nurses in difficult circumstances.
The program strives to present 1 million "túi quà an sinh" until the Covid-19 epidemic is over. Each "túi quà an sinh" contains food such as rice, cooking oil, eggs, dried fish, canned meat, vegetables for people to use within 1 week (worth 250,000 VND/bag) or "túi thuốc an sinh" including basic drugs to prevent Covid-19 according to the list of guidelines of the Ministry of Health with a value of VND150,000/bag.
** According to the 2020 "Chia sẻ và lan tỏa yêu thương – Chung tay đẩy lùi Covid" charity program, Bitexco Group has donated VND 15 billion to the frontlines who participated in fighting against the epidemic: the Ministry of Health, Hanoi and Ho Chi Minh City. At the same time, Bitexco has reduced tens of billions VND to support tenants at The Garden, The Manor Hanoi and Bitexco Financial Tower (HCMC). In addition, Bitexco presented tens of thousands of gifts including necessities and medical equipment to the frontlines, workers, families in difficult circumstances. All these goods were purchased by Bitexco from suppliers, actively contributing to the trade industry, supporting and rescuing farmers to overcome difficulties caused by the pandemic.