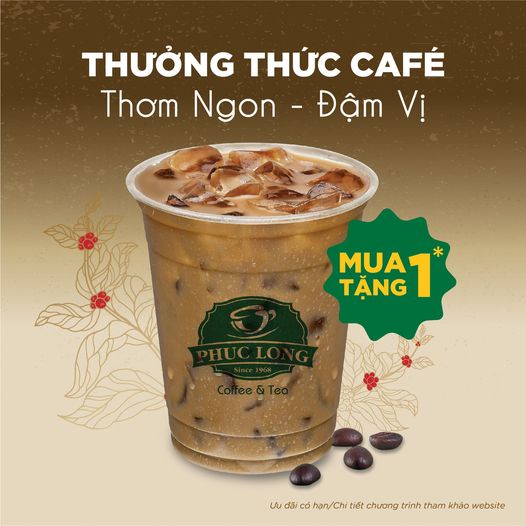 Customers will receive a cup of black coffee or hot/iced milk coffee (Medium size) for free when buying 1 cup of coffee (Big size) of Classic Coffee & Traditional Coffee.
In addition, Phuc Long also has another promotion: a convenient package of ground coffee (200g) for free with the bill from VND 200,000 from now to 29/04/2021.
Notes:
* The "Buy 1 Get 1" promotion applies all day from now until April 29, 2021. 7:00 AM to 10:00 AM from May 4 to June 13, 2021.
* The ground coffee gift promotion is not applicable at the same time as the Buy 1 Get 1 promotion.
* The number of offers is limited per day and the promotion can end earlier if the gifts run out.
For more details, please visit: https://bitly.com.vn/7g6wg0
Location: Phuc Long, Food Creative, Level 4, Icon68 Shopping Center, Bitexco Financial Tower, District 1, HCMC.