Within the time of official visit to Vietnam by U.S President Barack Obama and his delegation, on evening 24th May, Secretary of the Ho Chi Minh City Party Committee has welcomed U.S Secretary of State Mr. John Kerry and over 30 American enterprises at Saigon Skydeck, Bitexco Financial Tower to usher the economic collaboration between the two nations.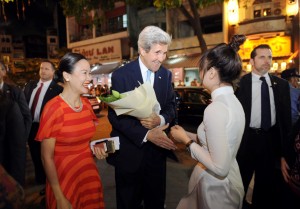 John Kerry and Party arrival at Bitexco Financial Tower
Before the reception, Mr. John Kerry and Mr. Dinh La Thang had an initmate conversation about the friendship between two nations, collaboration opportunities and the growth of Hochiminh City at VIP meeting room, Bitexco Group's office on 48th floor.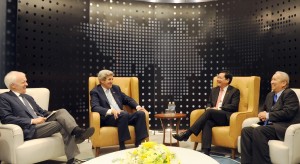 Mr. John Kerry & Mr. Dinh La Thang discussion at Bitexco Financial Tower
At the reception, Mr. Kerry has given his thought about his first visit to Vietnam in 1968. At that time, when he travelled to Nha Be by boat, the two river banks were rural scenery, and now he can see a dramatically change with the view of of city skylines of Ho Chi Minh City. Mr. Dinh La Thang also took this chance to thank Mr. Kerry for his effort in impulsing the relationship between the two nations during the years.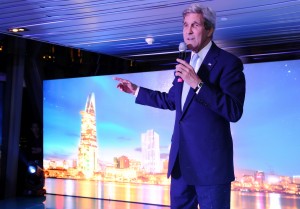 Secretary Kerry shares his thought about his visits to Hochiminh City at the event
A closer look at the event
Saigon Skydeck of Bitexco Financial Tower is the only place where visitors can take in the beauty of Hochiminh City at height of 178 meters. The event theme was "Lotus", Vietnamese National Flower and inspirational design of the tower. The event's dinning experience was prepared by JW Marriot Hanoi's Head Chef, who has been preparing meals for President Obama during his stay in Hanoi. Dance artist, Thuy Chi, Saxophone artist Tran Manh Tuan and Singer Uyen Linh performances round up a wonderful night.
Delegation makes visited Helipad for a 360 degree view of Saigon by night.
After reception, the delegation had moved to helipad to enjoy the view of Saigon by night. Mr. Kerry kept expressing his impression about the fast development of Ho Chi Minh City when he was introduced about different developments around the city, especially about Thu Thiem tunnel under the Saigon River.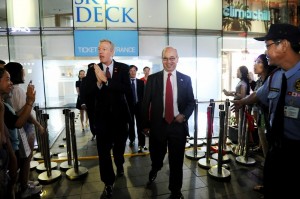 Delegation leaving Bitexco Financial Tower
During this first time visit, U.S Delegation had chosen two of Bitexco Group establishments; JW Marriot Hanoi hotel, where President Barrack Obama stayed, and Bitexco Financial Tower, where Secretary of State Mr. John Kerry attended this important event.
For more information, please contact:
Bitexco group
Nguyen Pham Khanh van- PR Deputy Director
Cellphone: 0916 33 8787
Email: vanpk.mkt@bitexco.com.vn