Bitexco Financial Tower and its Saigon Skydeck is one of the ideal destination of Ho Chi Minh City (HCMC) for tourists. The 49th floor of the tower is a favourite place to view Saigon city skyline, also the best location to watch firework performance in national holidays through the year. Recently, Saigon Skydeck has been awarded as "Top travel brand in HCMC 2015" under the sub category "Top 10 interesting destination" by HCMC Tourism Department. From its heigh of 178m from ground, tourists will capture a modern Saigon, sparkle at night and busy at day time. On this floor, there are also some free assisted equipments that support to view in long distance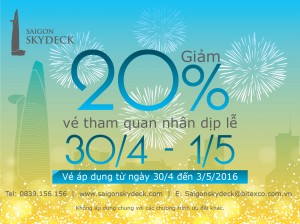 During the upcoming long holiday to celebrate Liberation Day and International Labor Day, ticket price to Saigon Skydeck will be 20% off, applied from 30th April till 3rd May, for adult and children.
Especially, at 30th April night, the promotion is also applied during peak hour where the firework is taking place. The discounted price for adult ticket is VND 160,000 and for children/ elderly people is VND 104,000. This special ticket is limited and only reserved for first 30 luckiest customers who come directly to Saigon Skydeck ticket box to buy.
For ticket reservation, please contact
Address : 36 Hồ Tùng Mậu, Quận 1, HCMC
Phone : (08) 39 156 156
E-mail :saigonskydeck@bitexco.com.vn
For press, please contact:
Lan Anh Hoang (Ms.) – PR Office – Bitexco Group
T: +84 8 3858 5588 – Ext:444
M: +84 988 85 81 82
E: anhhtl.pr@bitexco.com.vn